HAPPY work-study students and interns at Cofidis Group in France!
4th in the Happy Trainees 2022* ranking...

It's good to do a work-study or internship in one of the 4 French subsidiaries of Cofidis Group! This 4th place reaffirms the Group's commitment to the inclusion of our young people within its organization.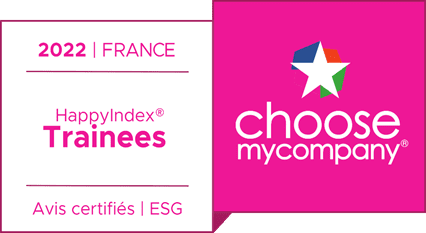 Labelled from the first participation
For a first participation in this label, the position of the group in the ranking demonstrates the consideration of the teams of Cofidis, Monabanq, Creatis and Synergie for the young people they welcome on campus in France to facilitate their access to employment.
With 72% of work-study students/trainees participating in the Happy Trainees survey, these fine results speak for themselves:
100% of work-study students/trainees recommend the group to work there!
100% like the group's culture
96% appreciate the quality of human relations within the group
96% have the impression that they are progressing and learning
94% receive regular and constructive feedback from their manager
A win-win investment
Cofidis Group warmly thanks the work-study students/trainees of its campus in France for this feedback, for their investment and the dynamism they bring to their 4 entities every day.
This is without counting on all the tutors, managers and teams who welcome, integrate and support the young people throughout their career. It is thanks to each of them that they have a human and exciting professional experience!
*Among the companies that recruit between 50 and 100 work-study students.